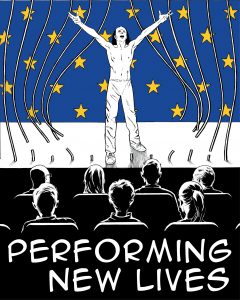 In "PERFORMING NEW LIVES" well-established theater experiences in European prisons are associated to create a common methodology. According to this a toolkit will be produced about methodologies and techniques for prison theater. In fact, although the theater in prisons is quite widespread, there is little specific literature, especially about methodologies: we will provide a useful text with this project. It's important to remember that whilst relapse is about 70%, inmates following professional theatre programs have a relapse of less than 15%. "By 2018 there were 643,000 inmates in European prisons […] Most of them lack education and have low skills. Education plays in prisons an essential role in promoting rehabilitation and preventing relapse "(ec.europa.eu/_/crimestatistics).
Prison is one of the most difficult environments to intervene with educational projects, either because of the climate generated by the confinement, or because of the characteristics of a large part of the prison population: low level of schooling, socioeconomic precariousness, marginality.
Beneficiaries will be the trainers and the apprentices of the partners, the inmates (engaged ca. 150, indirectly ca.3000) the prison staff and the whole society will benefit, with inmates better prepared for their reintegration at the end of the sentence, thetre actions play an important role in the fight against stigma, an essential condition for ensure inclusion. The project reflects the objectives of the Erasmus + Program in terms of promoting equity and inclusion.
The right of the inmates to culture is recognized, although of difficult action. With theater, where inmates are not judged on the basis of "school" parameters, important results are achieved in terms of acquiring basic and transversal competences. Theater develops self-confidence and self-esteem; it offers new scenarios of thinking and emotions to people who live in great sensorial deprivation. It implies the "representation" of specific problems (exclusion, diversity, racism, discrimination, etc.) and allows inmates access to expression.
The associated theatrical companies are also living schools of a kind of theater that is not taught in any academy. All partners face the same type of situation, but each one had to generate its own theatrical methodology and practice and an adequate strategy of action: an important and common data is e.g. the presence in prison of a large number of foreigners, which may exceed 40%, with similar socio-anthropological and cultural problems and where theater has proved to be an excellent instrument for the promotion of dialogue and integration. Our project will reinforce the pedagogical and operative capacity of these unique prison-theater-schools, tackling the Europe 2020 strategy that sets the target of smart, sustainable and inclusive growth.