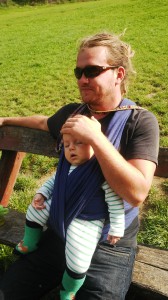 I am Márk Kőrösi, born in Pécs on 15 March 1984.  I currently work and live with my family of four in my home town.
I got involved in theater early on. In primary, then later in secondary school I was a rather passive member of student theatres. Int he hope of taking part on trips abroad I undertook two main tasks: I was either a technician or a silent security guard in the background.
It was during my studies at Pécs University (pedagogy and P.E.) that we founded the troupe with my secondary school teacher Éva Bús and with my friend Gáspár Horváth. This is when my calling in student theater found its space of action. My mother, Éva Vatai had an instrumental part in my drama education; she made sure that many obscure, barely known works on theater ended up in my hands. I received basic practical training during various workshops held at international festivals and in Avignon, under the tutelage of such greats as Carlo Bos, Jopseh Markovskiy and Francoise Simon. Each of them gave the company enough material to work with. Parallel to working with the company I graduated from László Kaposi's drama paedagogical course (a state accredited course), after which projects with the Kerekasztal Company followed.
My image of what theater is or could be was expanded immensely during the theatre camp held by Árpád Schilling in 2007, following which our work took on a new direction. We started working with new colleagues during our workshops in abandoned factories so that we can get to know other forms of art and their practitioners.
The next few years were spent by using theatre as a tool for our various social researches. I undertook the tasks of coordinating the whole process, of leading the workshops with youth, then later, that of cameraman and the editing of videos. A chance for further education opened up: I spent time with the Ilotopie company of France, and travelled around the Sout of France by boat with my video installations. My cousin, András Hajdú played an elemental part in my artistic development around this time.
In 2010 I spent three months in India with my brother, Boldizsár Kőrösi. This proved to be a seminal experience as it served as a source of inspiration for my projects. Retruning to Hungary, my focus turned back to art. By this time, I had been working in Pecs Prison Theatre